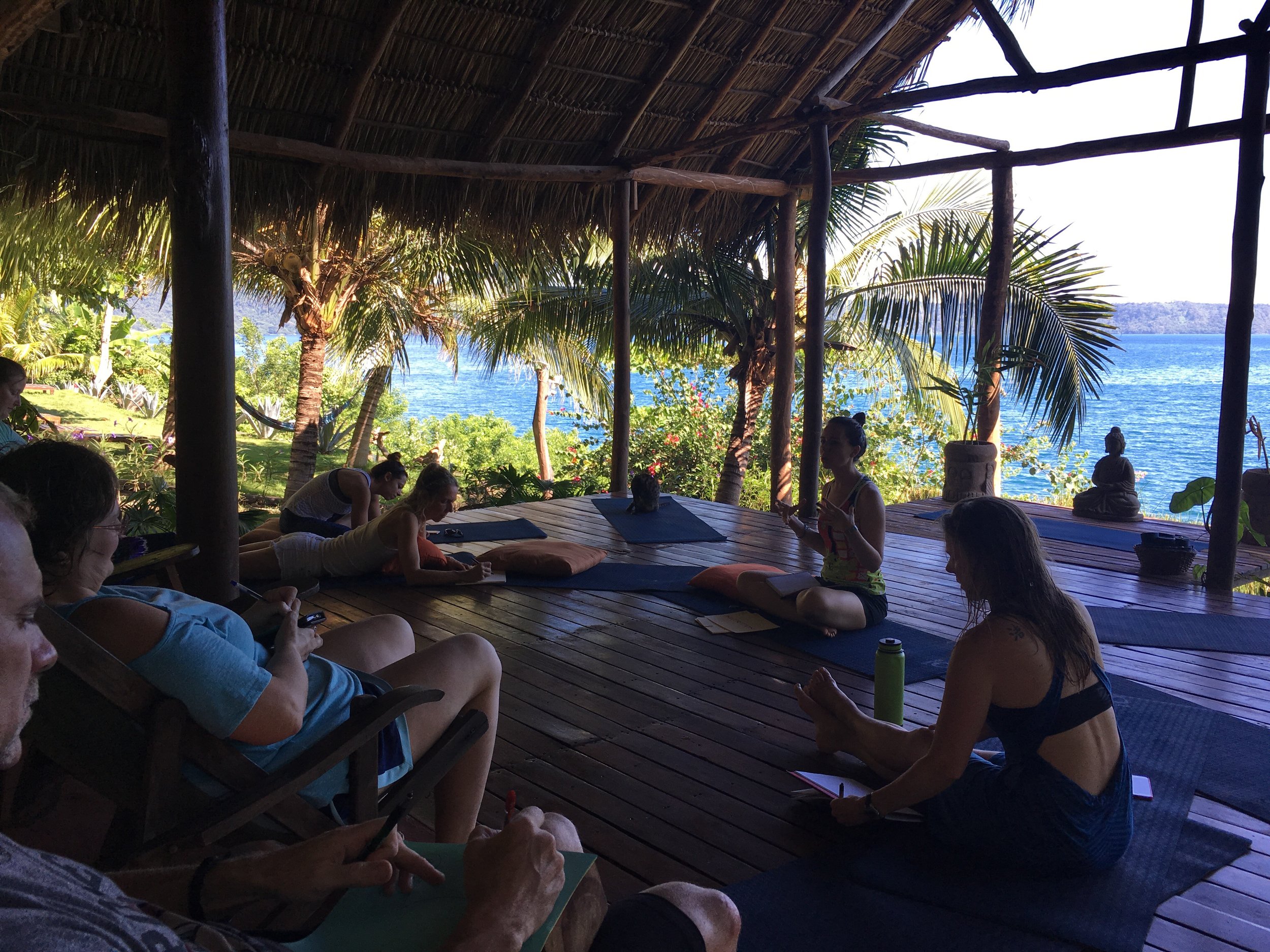 Are you...
... Feeling unusually tired?
... Overweight or simply living in a body that you don't recognize as yours?
... Suffering from brain fog? Skin problems? Bloating and/or digestive complications? Crazy sugar cravings? Emotional eating episodes?
If your answer is YES to any of these questions, we have the perfect escape for you this winter!
7 nights / 29th June - 6th July 2019
Join Miriam RM, Health and Lifestyle Coach and Co-Owner of Apoyo Lodge for this year's SUMMER DETOX CAMP to take control of your health and give your system the "reset" it needs.
We are offering you the opportunity to join a limited amount of determined participants who will embark on a guided, 7 night detox journey to help their bodies get back on track and enhance their natural elimination and cleansing mechanisms.
Your body is so wise, you wouldn't believe it! It was designed to keep itself clean and healthy by just following our natural instincts. Detoxing has played a crucial role in human history across most cultures and religions, it is not just a trendy thing for celebrities to do these days. Unfortunately, most of today's western lifestyles don't support the body's mission of getting rid of the junk it no longer needs. Instead, most people overload their systems with damaging chemicals, toxins and fake foods/drinks with low nutritional value on a daily basis, which adds an incredible amount of work to your cleansing organs. When your body is not eliminating waste properly, chronic health problems, fatigue or unwanted extra pounds will irremediably become part of your life.
What can you do about it? Don't worry, this is what we are here for: our Detox Camps are designed to help you jump-start a holistic cleansing process and provide you with the tools you need to continue this journey on your own when you get back home. It is not rocket science, but you need to know where to start, right?
DURING THIS WEEK, YOU WILL:
Eat the right food and drink the right fluids: a combination of fresh juices, filling smoothies and hearty soups to nourish your body whilst giving it a chance to do some much needed internal cleansing. In between you will be drinking coconut water and herbal teas that support liver, gallbladder and kidney detoxification. Plenty of water of course!

Practice the perfect yoga and meditation routines to help eliminate the toxins from your bloodstream in a gentle and restorative way.

Relax by the Lagoon, swim in its pristine healing waters and get pampered throughout the week with our healing therapies.

Learn the basics of keeping your body healthy and clean during informative workshops and activities.

Meet with Miriam for a one-on-one session to discuss your particular health goals and to draft a plan of action to take home with you.
Healing the body does not happen overnight, but it needs to start somewhere… and where could it be better than by the shore of a natural crater lagoon that is known for its medicinal healing waters in the company of a group of like-minded individuals?
YOUR DETOX CAMP INCLUDES
7 nights shared or private accommodation in one of our boutique rooms with private bathrooms.

All plant-based raw meals, smoothies, juices and soups as per the Detox Plan.

Unlimited herbal tea, fresh lime, cucumber and coconut water.

2 x Daily yoga and meditation classes

Workshops focused specifically on detoxification and elimination, juice cleanses, and all the information you need to make long-lasting positive changes to your lifestyle when you get back home.

Mild Colon Cleanse with natural herbs.

2 x 60' massages (possibility of more massage therapy throughout the week at an additional cost).

1 x 60' Health Consultation with Miriam

Round-trip private airport shuttle service
NOT INCLUDED
Flights to and from Nicaragua (fly to Managua airport, MGA).

Additional services not mentioned above.

Tips (voluntary).

Insurance (recommended).
INVESTMENT
Shared accommodation starts at only $1,150 USD/pp

Private accommodation starts at only $1,325 USD/pp
An initial non-refundable deposit of $300 USD is required to secure your reservation for this retreat. Payment can be made to Apoyo Lodge in the form of Paypal or by debit/credit card for an addtional 4% fee. The remaining balance will be due one week before arrival or when the retreat fills up, whichever happens first.
Payment at Apoyo Lodge for any additional items (not included in the retreat) can be made in cash (we accept USD, NIO or EUR) or by debit/credit card for a 4% fee.
YOUR HOST - MIRIAM RM
Miriam stumbled upon veganism by chance six years ago, and once she started questioning her food choices, she wasn't able to stop questioning her whole life choices.
She left a very successful and stressful career in aviation behind, together with some very poor life habits and some disastrous relationships and embarked on a personal journey to discover some life purpose and reconnect with Mother Nature and ultimately herself.
Miriam is now a certified Health and Lifestyle Coach by the Institute of Integrative Nutrition in NYC, who is 37 lbs lighter than she used to be and who has won the battle to many health issues with a balanced and delicious diet, enjoying a lifestyle free of cruelty and respectful to all earthlings and the planet.
Miriam now dedicates her time and efforts to help people all over the globe achieve their personal health and lifestyle goals in a sustainable manner through her one-on-one coaching, workshops and retreats. After living in 5 countries across 3 continents, Miriam is now based at Apoyo Lodge full time with her partner Manuel, her step-daughter Yahoska and her rescued four legged companions. You can follow her daily life through her Instagram account or Facebook Page.